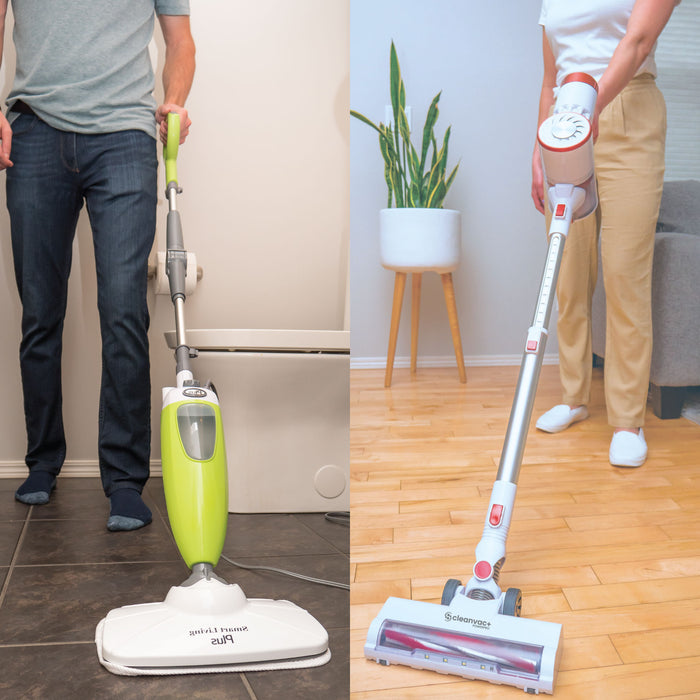 Regular price
$529.99 USD
Regular price
$629.98 USD
Sale price
$529.99 USD
Unit price
per
Sale
Sold out
Share
Description

Introducing the Fresh Floors Duo - the Ultimate Cleaning and Maintenance Combo!

Are you ready to redefine the way you clean and maintain your floors? Say hello to the cleanvac+ POWERPRO cordless vacuum and the Smart Living Steam Mop Plus – your new best friends for a fresh and spotless home.

About the cleanvac+ POWERPRO Cordless Vacuum

Experience the cleaning revolution with the cleanvac+ POWERPRO, the cordless cleaning companion that does it all:

Powerful Cleaning: With a robust 300W motor and adjustable power settings, it tackles everything from stubborn dust to pet hair and coffee grounds.
Versatile Accessories: It comes with a 2-in-1 dust brush and crevice tool for hard-to-reach spots.
Customizable Height: Adjust the pole to reach every corner, from floor to ceiling.
Lightweight and Ergonomic: At just 6lbs, it's easy to handle and isn't top-heavy like other cordless vacs.
Long-lasting Battery: Enjoy up to 35-42 minutes of cleaning time, depending on the power setting used.
Effortless Maintenance: The removable brush roll keeps your vacuum in peak condition.
Convenient Storage: Wall mount it to save space and always have it ready for action.

Clean your floors without interruption and in peace, thanks to reduced noise output. Elevate your cleaning game with CleanVac+ POWERPRO – it's more than a vacuum; it's a lifestyle upgrade.

About the Steam Mop Plus

Now, meet your perfect partner for sanitizing and keeping your floors in pristine condition:

Chemical-Free Cleaning: Steam Mop Plus uses only water to remove dirt and grease without harsh chemicals.
Eco-Friendly: The machine-washable microfiber pad is reusable and eco-conscious.
Ultimate Sanitization: Kills up to 99.9% of bacteria, germs, and dust mites, leaving your floors squeaky clean.
Safe on All Surfaces: Ideal for hardwood, laminate, vinyl plank, tile, carpet, linoleum, and more.
Smart Features: Enjoy a smart steam shut-off and a convenient "back-saver" handle for easy maneuverability.
Quick-Drying: Steam dries in under 60 seconds, leaving no streaks or footprints.

To sweeten the deal, you'll get three extra reusable microfiber pads with your purchase.

The Perfect Duo for Fresh Floors

Elevate your cleaning and maintenance routine with the Fresh Floors Duo. Save time and effort while achieving the best results. Say goodbye to chemicals, noise, and hassle, and say hello to a cleaner, healthier home. Buy this powerful combo now at a special value price and transform the way you care for your floors.




 
Specifications

Power: 

cleanvac+ POWERPRO

300 watts

Up to 25 kpa

22.2V rechargeable lithium-ion battery 

Steam Mop Plus

External direct AC/DC power supply.  Cord 592 cm / 234 in

Product Dimensions (Inches):

Vac Approximate: 42" high (with floor brush flat on floor) x 10" wide (brush head; widest component) x 8.5" deep (top with motor and dust bin)

Steam Mop Plus: 6.25 x 11.5 x 47

Product Weight (lbs):

Vac approx. 6 lbs


Mop Approx. 5 lbs

Warranty: 

Vac 2-year limited against manufacturer's defects.

Mop 1-year limited against manufacturer's defects.
Care & FAQ's

Feel free to contact our office directly at info@oceansales.us.

View full details